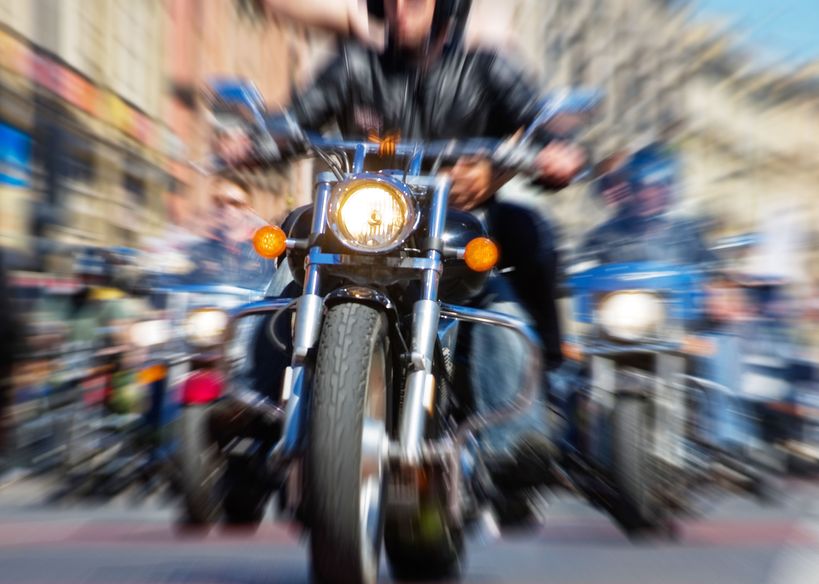 Sometimes the best way to travel is when you are out in the open air. This is one of the many reasons riding a motorcycle is such fun, but it is also important to know the laws of riding, and to stay safe. This blog post is intended to inform you of Colorado's motorcycle laws, and to provide you with some general safety tips.
Colorado Motorcycle Law and Regulations
Motorcycle Requirements:
A functioning muffler

At least one or two headlamps

A reflector

At least one tail light that is visible from 500 feet away and is between 20 and 72 inches of the ground

A brake light

At least one braking system for one of the wheels

A horn that is audible from 200 feet away

DOT approved road tires

A mirror that can view at least 200 feet behind the motorcycle
Equipment Requirements:
Riders and passengers that are under the age of 18 must wear DOT approved helmets.

Riders and passengers must have some form of eye protection, a windshield is not considered a form of eye protection
Licensing:
Riders must have a class M license or motorcycle endorsement to operate a motorcycle

Riders that are under the age of 18 must hold a motorcycle permit for at least 12 months before they may receive a motorcycle endorsement or license

Riders that are younger than 18 also need to submit an Affidavit of Liability and Guardianship to the DMV to obtain a permit

Riders that apply for a permit that are 15 and 16 years old must complete a

Motorcycle Operator Safety Training (MOST) program

in order to obtain a permit
Permit riders can only ride under the supervision of an adult 21 year old who also has a Colorado Motorcycle endorsed driver's license

If you are 15 years old, then you may only ride under the supervision of your MSF instructor.

Insurance requirements:
$25,000 of bodily injury or death insurance is required for at least one person involved in a crash

$50,000 of bodily injury or death insurance is needed for multiple people in a crash

$15,000 of property damage insurance is required
Miscellaneous Laws:
Passengers must have their own fixed seat on a motorcycle and use a footrest provided by the motorcycle

Motorcycle are subject to random safety inspections by the police

Riding abreast of another rider in a single lane is permitted in Colorado

Riding between two lanes of traffic on the lane dividing line or "lane splitting" in Colorado is illegal
Colorado Motorcycle Safety Tips
Prepare for what you will need for a ride ahead of time.


Colorado weather can be change multiple times in the same day, so it is always a good idea to bring the proper equipment to deal with the elements. Wear warm, durable clothes that will protect you from the wear and tear of the road (jeans and a leather jacket would do just fine). Wear a well-fitted helmet that has a chin strap, this will ensure that your helmet does not come off in case of a crash. Also, wear heavy boots that come up above your ankles. These will reduce the risk of burns, will make it easier to shift gears, and could protect you from a broken foot in the event of a crash. Keep up-to-date medical and insurance information on your person and a first-aid kit on your motorcycle if possible.

Get used to riding your motorcycle before using it regularly.


A great way to prevent a crash is to "break in" your motorcycle before you hit the highway. This means that you should practice riding your motorcycle on streets that aren't very busy (like farm roads or an empty parking lot) before going on a long ride in traffic or at highway speeds. You have to feel comfortable riding your own motorcycle before you take it onto a highway or busy a city.

Motorcycle training courses

are an excellent way of practicing motorcycle safety and learning basic riding skills. It also couldn't hurt to learn basic motorcycle maintenance, which might help one day if you are stuck on the side of the road.

Invest in more than just minimum insurance.


There are a number of scenarios in which having only the minimum insurance could leave you in a bad situation. When it comes to insurance, it is always better to have coverage and not need it than the other way around. Insurance coverage that you may want to consider includes:
Liability coverage

. This will help cover compensation if you are found liable for a crash, and should be considered a necessity.

Comprehensive coverage

. This will cover damages to your motorcycle that were not caused by another vehicle crashing into you. For example, it will cover you for theft, weather damage, crashing into a ditch, etc.

Uninsured Motorist coverage

. This will cover damage costs if you are involved in a crash with a person that does not have insurance. Without this coverage, you may not receive any compensation from an uninsured motorist because they simply cannot pay for your damages.

Roadside assistance

. This is important for riders who like to go on long road trips. If you are broken down of the side of the road, this coverage will have a tow truck pick you up and repair your bike. Even if you know how to fix your own bike, it wouldn't be any fun working out in the elements and with limited tools.
---
Denver Motorcycle Accident Statistics
(Leventhal Sar LLC)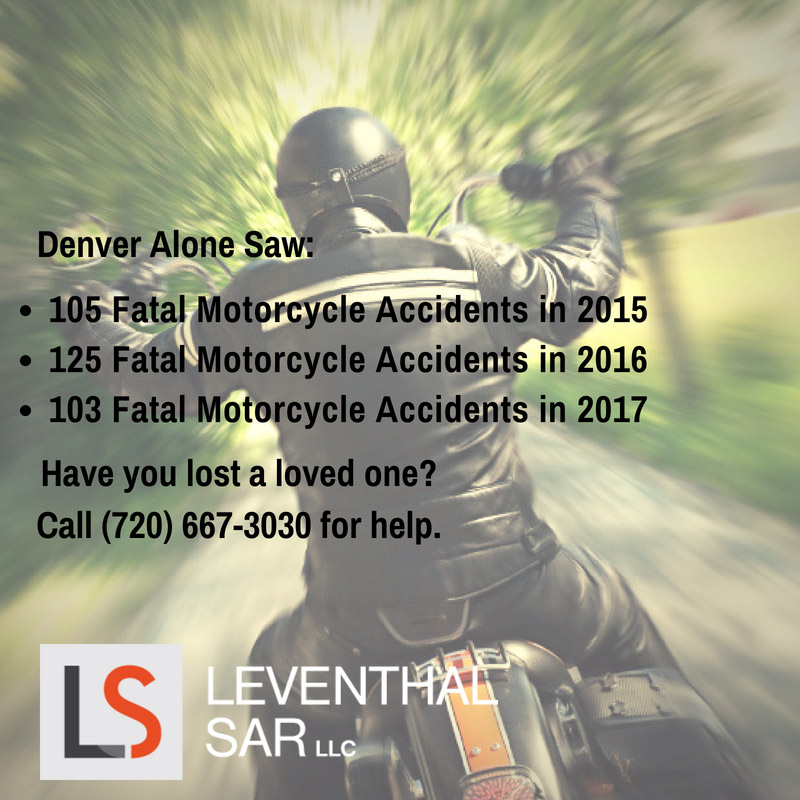 If you or someone you love was injured in a motorcycle accident, find a Denver law firm that can help you.
Additional Resources
Motorcycle Operator Handbook